The 5th annual Steamboat Jamboree is shaping up to be the best yet!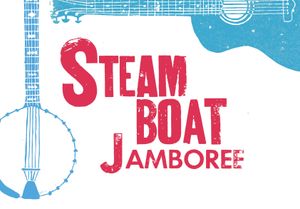 We're thrilled to welcome some new local friends to the Jamboree lineup (Calvin Johnson, Eleanor Murray, The Sassafras Sisters), some new visiting bands (Never Come Down, Tallboys Quartet), and some Jamboree veterans (The Lowest Pair, Warren G. Hardings, Rusty Cleavers). Plus don't miss Montgomery Brown & the Orchestra of Dust Saturday night in the Grange! And last but not least, our co-hosts The Pine Hearts! Plus many more! Oly Mountain Boys will close out Friday night at 11pm and play on the Morgan Hill Second Stage on Saturday afternoon. 
We're grateful to our title sponsor H&R Block, Second Stage Sponsor Morgan Hill, all the folks that will be providing food and drink (Northwest Beerwerks, Blue Heron Bakery, Octapas Cafe), Oly podcast and video producer Olympia Pop Rocks, and all of our other supporters! The Jamboree can't happen without you!
We're looking forward to supporting the great work of Olympia's Arbutus Folk School with this year's Jamboree proceeds!
This event runs on volunteers, and we still need a few to fill various roles and time slots! Email steamboatvolunteers@gmail.com to sign up and get your weekend pass!
Getting your tickets in advance is highly recommended! Head on over to our Brown Paper Tickets event and let us know you're coming!