Don't miss these October shows!
October 19 - 2019 Steamboat Jamboree Harvest Party
It's that time of the season again! Join us out at the beautiful Prosperity Grange Hall in West Oly for an evening of rollicking tunes and community camaraderie with all yr old friends, and some new ones to boot. We'll also be raising funds for and announcing the first details for the 6th annual 2020 Steamboat Jamboree -- so make sure to be here and celebrate with us as we warm up for the best small fest in the Pacific Northwest!!
Featuring the following incredibly talented artists:
We'll get started at 6pm and music will roll until midnight-ish!
$10 - 20 SLIDING SCALE @ THE DOOR
ALL AGES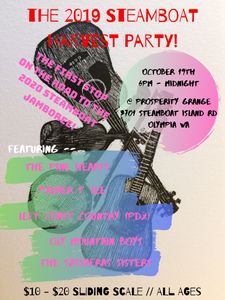 October 25 - Oly Mountain Boys and the Dodgy Mountain Men at Rhythm & Rye
Missoula Montana's Stompgrass outfit Dodgy Mountain Men are teaming up with us at Rhythm & Rye for one boot-stompin' good time! 9pm, $10 at the door.