We're proud to announce that Diamonds & Flowers received a review in this month's edition of the venerable Bluegrass Unlimited Magazine!
A sample from reviewer Bill Foster: "This new project is a collection of tunes by band member Menser, and infuses some rock influences into their arrangements ... Menser's pleasant vocals and the bands tight arrangement make this a most enjoyable project with lots of new songs which others may consider."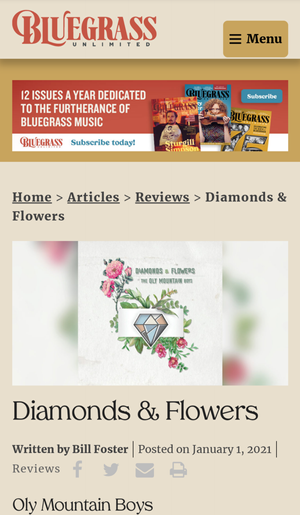 We've always been proud to have our music reviewed by Bluegrass Unlimited, dating back to our first album in 2011, when they called a few of our tunes "reasonable if somewhat average..." We'd say "enjoyable" is a step up!
We hope streaming the album or picking up a CD will brighten your day!
Stay safe and healthy for the return of live music!