Two quick updates for you!
Fiddle Fest
We'll be at New Traditions Cafe this Olympia Artswalk, part of the great lineup for Fiddle Fest! Friday night October 7th, get your seat early! Show at 6, Oly Mountain Boys at 8!
Spanish Ballroom with Jake Eddy!
Tickets are now ON SALE for our show Sunday, January 8th, 2023 at the Spanish Ballroom in Tacoma, Washington, opening for the Jake Eddy Trio! A little about Jake: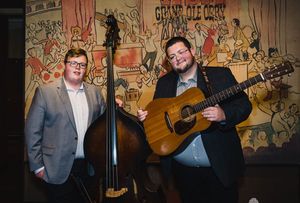 The "Flatpick Wizard" (Bluegrass Today) - Jake Eddy is a bluegrass guitarist born and raised in Parkersburg, West Virginia. The 3-time Grand Ole Opry performer began his music career and sparked his lifelong addiction to the road by playing banjo professionally at the age of fourteen with bluegrass-legend Melvin Goins. His guitar playing, primarily influenced by bluegrass and jazz, is showcased on his debut album of fiddle tunes, entitled "Jake Eddy," which features musical legends such as Grammy-award winning Bryan Sutton, Rob Ickes, and Kenny Smith. His unmatched fast-paced ingenuity and creativity brings youthfulness into the beloved bluegrass sphere.
We can't wait to show Jake and his trio a warm Northwest welcome, and play this great venue for the first time! We hope you'll join us, and it would mean a lot to us if you'd help us spread the word to South Sound bluegrass lovers!