STEAMBOAT WINTER JAM
It got too wintry for our February 9th winter jam, but the fun has been rescheduled for February 23! The remix will feature: The Oly Mountain Boys, the Pine Hearts, the Lowest Pair, and Eleanor Murray! Sliding scale of $10-20 for a huge night of Americana music! Doors at 6pm!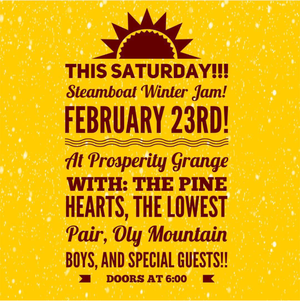 STEAMBOAT JAMBOREE - TICKETS ON SALE!
The fifth annual Steamboat Jamboree will take place May 31st and June 1st, 2019 and TICKETS ARE NOW ON SALE! Get em online or score a discounted weekend pass at the Winter Jam!
RHYTHM & RYE 5 YEAR ANNIVERSARY!
We can't believe it's been 5 years since Rhythm and Rye opened - we've played and seen so many great shows there in that time. You may remember we played the very first night at Rhythm and Rye with Northwest favorites Hillstomp, and we're going to recreate that great night on March 23rd!
Feb 23 Steamboat Winter Jam, Prosperity Grange Hall, Olympia 
Mar 23 Rhythm & Rye 5 Year Anniversary w/ Hillstomp, Olympia 
Apr 5 Loggers Landing, Quilcene 
Apr 26 Rhythm & Rye Olympia Artswalk, Olympia
May 31-Jun1 Steamboat Jamboree, Olympia