Howdy bluegrass fans! We're coming out of hibernation for some 2019 shows, and we hope to see you! We're making our debut at Matchless Brewing on January 26th, then headed to Ocean Shores for the ABC3 Music Festival! 
STEAMBOAT WINTER JAM
We just can't wait for the Steamboat Jamboree, so let's JAM at the Prosperity Grange! Ingredients: The Oly Mountain Boys, the Pine Hearts, the Lowest Pair, Austin Quattlebaum, and Armchair Boogie! Sliding scale of $10-20 for a huge night of Americana music! Doors at 5pm, show starts at 6pm!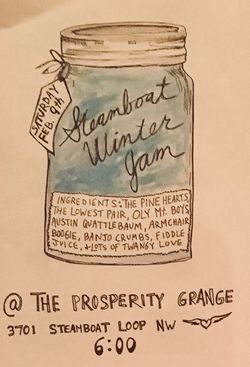 STEAMBOAT JAMBOREE - SAVE THE DATES!
More info to come, but for now, mark your calendar! The fifth annual Steamboat Jamboree will take place May 31st and June 1st, 2019! 
Jan 26 Matchless Brewing,  Tumwater
Feb 1-3 ABC3 Music Festival Ocean Shores
Feb 9 Steamboat Winter Jam, Prosperity Grange Hall, Olympia
May 31-Jun1 Steamboat Jamboree, Olympia