Jamboree weekend is here! This year's event is bigger and better than ever!
We've outgrown the Prosperity Grange backyard, but we aren't moving far. This year's stage will be located in the grassy field of the Tin Cup Golf driving range next door! Bring your blankets and spread out in the grass!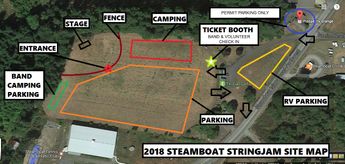 Festival artists the Oly Mountain Boys, Thunder and Rain, and Ky Burt will all be hosting workshops on Friday at noon!
And a ton of great bands all weekend!
Your favorite duo The Lowest Pair closes out Thursday night! Don't miss our set Friday night! Festival partners The Pine Hearts perform Saturday! And headlining is Songs from the Road Band all the way from North Carolina! Plus too many other great bands to mention!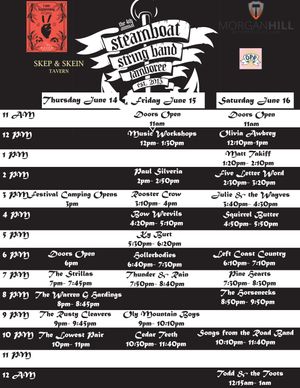 The Steamboat Stringband Jamboree is a benefit for Outdoor Arts and Recereation, a Washington State based 501(c)(3) non-profit that promotes outdoor recreation, healthy lifestyles and promotes the arts as well. Outdoor Arts & Rec provides our community with recreation opportunities and art performances such as organized hikes, rides, climbs and runs as well as music concerts, film festivals, and music festivals.
Thanks to our sponsors and supporters! 
Including Ravengrass, Morgan Hill, Skep & Skein, Olympia Pop Rocks, Blissful Wunders, 3 Magnets Brewing Co., Matchless Brewing, and Northwest Beerwerks!
Jun 15 Steamboat Stringband Jamboree, Olympia
Jul 21 Hwy 101 Wine Mixer, Shelton
Jul 28 Doyle's Public House, Tacoma
Aug 3 Thurston County Fair, Olympia
Aug 19 Blueberry Bash, Olympia
Aug 25 Grand Oly Opry, Olympia